Awesome displays at Orland Fire Open House
|
The Orland Fire Protection District hosted its annual Open House Sept. 26 and showcase a wide range of demonstrations and emergency simulations including fighting a home fire, responding to vehicle accidents including a car crashing into a train carrying flammable liquids, the landing of the OFPD emergency rescue helicopter and displays of Fire equipment including a robot used by the Cook County Bomb Squad
By Aaron Hanania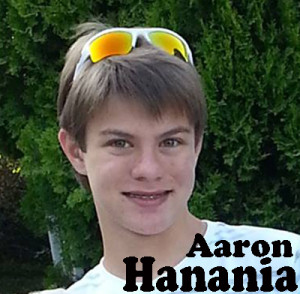 The Orland Fire Protection District hosted their annual Open House and it was a lot of fun, as it always is.
I have been going to the Open House events since I was a young kid because it has many things that are fascinating and interesting, and I learn a lot about fighting fires and family safety.
The Open House was held at the Orland Fire Protection District's Command Training Center located at 10728 W. 163rd Place in Orland Park, IL. I went with my dad, who is the communications consultant for the Fire District, but I spent a lot of time exploring the many different displays on my own.
It was really fun with awesome hands-on activities for people of all ages, but mostly exciting for young kids and teenagers like myself.
Click here to view the first of several videos I made of the Orland Fire Protection District's Open House.
The Fire District helps kids learn about fire safety through many of their training demonstrations in fighting fire, recovering victims from accidents and even explaining how dangerous fires can be. The demonstrations included the extraction of a driver and a passenger from a car. There were "Side-by-Side" fires showing how differently fires spread in two different front rooms, one without a water sprinkler and one with a water sprinkler.
An emergency helicopter that airlifts victims of fires and other emergencies landed at the Command Training Center's lawn and the public was allowed to examine the helicopter controls and equipment up close. They even had a simulated accident in which a car crashed into a train car carrying flammable liquids.
Of the many demonstrations that the Open House featured, my favorite one is the "Side-by-Side" fire demonstration, which shows the importance and effectiveness of a water sprinkler system.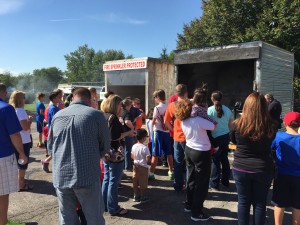 It is amazing to see how much a sprinkler system can save lives by rapidly putting out a fire before it becomes so large it consumes an entire home and all of its possessions.
The fire in the room with the sprinkler system lasted on about 25 seconds before it was extinguished. The other simulated front-room without the sprinkler system was completely destroyed by the flames and it took a lot of effort to put out the fire.
Don't worry if you missed this year's open house because the side-by-side demo is done every year and is a must see demonstration. And, I also video taped many of the demonstrations including the "Side-by-Side" fire simulations that you can find on my YouTube channel and also on my webpage at www.AaronHanania.com.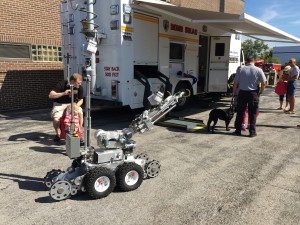 The Orland Fire Protection District also conducted a demonstration where they showed the public how they extract people from crashed cars. To get the "victim" – the fire district used dummies – the firefighters had to cut off the doors and then literally cut off the roof of the car using special saws and a "pliers" called "the Jaws of Life" that spreads the door and metal until it falls apart.
The equipment is state-of-the-art and uses chargeable batteries to operate. It was interesting because that was the first time I was able to see those tools used in a fire department demonstration.
It completely ruined the car.
They took the entire roof off in one piece making it easier to reach the victims and give them emergency care. Paramedics lifted the "victims" out of the car on gurneys and then simulated taking them by ambulance – or helicopter – to nearby hospitals where their lives could be saved.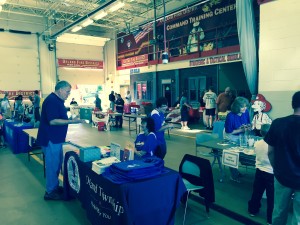 Another popular thing that they brought back to the Open House was a Medical Helicopter. It was really cool to watch it land and all of the kids loved it. The sound and sight of a helicopter landing less that 50 feet away from you is just crazy, because it is hard to get that close to a helicopter that is landing.
Another new demo was to fight a fire caused by a car crashing into a train car carrying flammable liquids. They used a foam-based water hose to put out the fire when the car crashed into the train. I thought that the white foam was pretty awesome because it was messy and smothered the fire. The firemen had to cool off the train car to cool off what is inside the car because it could explode in a real situation.
Of course this was very safe because they car was filled with water, so there was no way for any explosions. The firefighters and the Fire District take every precaution to protect the public and keep them safe.
The open house this year had at least 10 fire trucks on display, an obstacle course for the kids, and they could use real functioning fire hoses to simulate putting out fires like the firefighters.
The Open House also had on display every piece of equipment used in every possible rescue scenario in water (scuba diving equipment and sonar and boats) to a remote control robot that examine potential bombs.
I got the rare chance to actually drive a Cook County Sheriff Police's bomb squad bomb disposal robot. Not many kids get to drive a $500,000 robot. It was very cool.
The robot can do many things including picking up objects. It has two guns that can shoot many different kinds of objects. The Sheriff's Officer from the bomb squad supervising the display explained that sometimes they have to use the weapons to fire at bombs to destroy them or damage them to prevent explosions. But the barrels can also fire water and other objects to help disarm bombs.
They also use the robot to enter burning buildings that are too dangerous for firefighters. I loved it because it was just different. I watched as it picked up and handed me a water bottle. I went into the Bomb Squad truck and saw the desk with the controls built into the table.
I asked him how he controls the robot and he showed me, allowing me to take control. It is a lot like a video game, with a joystick and a few switches. It is just that easy. The robot operator can also speak into a microphone from the control truck and you can hear what is being said through a speaker on the robot.
You can't imagine how cool that robot is to operate until you do it. Which means you need to make sure that next year, in early September, that you make time to attend the Orland Fire Protection District Open House.
Bring your kids the Open House and learn about how firefighters actually fight fires. And learn about ways to make your home safe.
This post has already been read 2313 times!